Louisiana Department of Wildlife and Fisheries hunting and fishing licenses may only be renewed once your current license has expired.
As of June 2022 — most LDWF licenses are now valid for 365 days from purchase date — licenses no longer follow the July 1-June 30 year. This change means that license holders could no longer renew their license early, during the month of June.
If you want to ensure you don't miss a second experiencing Sportsman's Paradise, you can sign up for our license auto-renewal program by clicking here. This feature will automatically renew your license at expiration through the credit card in your account.
LDWF began offering license auto-renewals for the first time last year.
You can opt out of auto-renewal any time before the renewal date by logging into your account at LouisianaOutdoors.com. Once the renewal has been processed, your new license lasts 365 days. A refund cannot be provided after the renewal is processed.
About Auto-Renewal
Automatic renewal is available for most hunting and fishing licenses. Auto-renew allows you to store payment information in the system and elect to have your license(s) renewed automatically every year.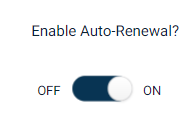 In your LouisianaOutdoors.com account, you can select which annual licenses you'd like to auto-renew. LDWF will automatically renew your licenses at the purchase price plus a $5 convenience fee using your stored credit card information. You will receive a reminder email 30 days and 7 days before the renewal date.